Recently, the fairy took a look at a unicycle, which is red and black. It fits my temperament (let me be narcissistic first). It is a 19-inch Nimbus extreme unicycle.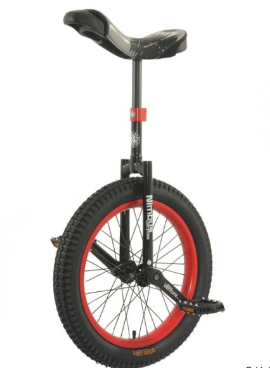 The unicycle using the new strong quantitative high strength of ISIS chrome molybdenum steel hub and 'Cyko - Lite tues and red circle with the red pipe clamp, let a person shine at the moment of feeling is there, it's a great unicycle.

The following is the basic configuration of the extreme wheelbarrow.

Wheel set size: 19" (387mm)

Frame: 20" Nimbus II unicycle frame, black

External foetus: Nimbus' cyko-lite 'external foetus, 19 x 2.5"

Saddle seat: Nimbus flat fancy wheelbarrow saddle

Seat tube: Nimbus aluminum alloy seat tube 300mm, diameter: 25.4

Seat clamp: Nimbus aluminum alloy seat clamp, green (calibre: 28.6mm)

Car ring: Nimbus 'Dominator 2' car ring, red spray coating

Flower drum: Nimbus ISIS flower drum, black, bearing size: 42mm

Crank: Nimbus 'Venture 2' ISIS crank, black, length: 125mm

Spokes: stainless steel 14G

Footstep: Nimbus' erase 'feet, black

So here's the problem.

It's expensive and costs 2,190 yuan in China. It may not be too expensive for most people, but I can't afford it right now, especially since I recently chopped off a phone. If I still chop my hands and buy this baby, I'll really eat dirt.

Here I just want to ask my little brother and sister who have eaten the earth, is the earth delicious? I was wondering if I would like to try it. Please reply after receiving it.