Guinness world records, also known as guinness world records or guinness world records, was first published in 1954 by Sir Hugh beaver, then the executive director of the guinness brewery.

In the mid-1980s, China central television introduced the 15-episode "guinness world records collection", which set off a wave of guinness fever across the country.

Even many stars won the guinness book of world records, in 2013, for example, to mark the tenth anniversary of the death of Leslie cheung, rong fans a total fold one million nine hundred and fifty-six thousand nine hundred and twelve paper cranes, experience, success has set a new guinness world record for "the world's largest crane exhibition"; In 2014, Lu Han set a guinness world record for individual comments on weibo, becoming the first person to publish and certify the guinness world record on Chinese social media. Last year, he jiong and xie na respectively set the guinness world records for the largest number of fans on their personal weibo accounts (male) and the largest number of fans on their personal weibo accounts (female)

But the master not only in the entertainment circle, but also in the folk.

Chan chung-qin is the guinness world record holder for the extreme wheelbarrow and the four-event wheelbarrow. A unicycle passed a beer bottle and a unicycle passed a flat belt. From 2014 to 2015, he repeatedly set new world records. Chen heavy ooze participated and the major national TV program broadcast by CCTV and the recording, such as the "impossible" challenge, "guinness China night", "rural world" and so on, he also participated in large-scale public welfare performance and business performance, bring us visual impact at the same time will also carry forward his fearless spirit, make I admire.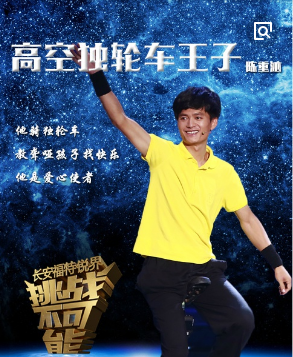 Unicycle itself is a very infectious movement, plus the guinness book of world records god assists, believe that there will be more and more people fall in love with the unicycle, let's together to challenge the impossible.