Nimbus VCX alloy cranks - 89mm
Product code:

395

Brand:

Nimbus

Weight:

0.29 Kg.
PREORDER
MAKE AN ORDER RIGHT NOW
FREE SHIPPING
on orders over
600 RMB.
The official Wechat
micro program
独轮车商城.
Scan the code using
Wechat App.
The official Taobao
store 独轮中国.
Scan the code using
Taobao App.
Product Description
The Nimbus VCX is taking over from the where the Excellent Nimbus Venture II crank left off.

The Nimbus VCX crank has been designed from the ground up. Nimbus have used the data collected from the Nimbus Venture II crank to produce a better all round design. The design has then been run though a Finite Element Analysis (FEA) program to see how they behave under extreme conditions. The VCX cranks are slightly wider than the Venture II's and have a smaller radius on the hub end, making them better for rolls and urban riding. The VCX is only available in ISIS interface. If you are fitting these cranks to a Nimbus ISIS hub you will need 6mm spacers to get the best fit.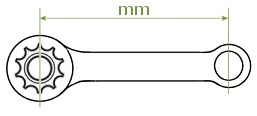 Features

Made from 7075 T-6 Aluminium, so we can be sure that they are a strong, long lasting and durable crank.

Available in sizes from 75mm all the way up to 165mm.

For a pair of 150mm VCX cranks the weight comes in at just under 490g.